25/05/2023
New Winter Menu
The cool weather is upon us. How does Beef and Guinness Stew, Gingerbread pudding and Hungarian Pork soup sound? All perfect for cool Winters days.
Our new Winter menu will start on Monday 12th June. Our Chefs have put together a great menu for you all to enjoy and we look forward to you all trying it.
All Clients will receive a copy of the new menu prior to its start.
Any food allergies, food restrictions and selection of days will automatically carry on to the new menu.
If you need to make any changes to this, please advise us when you receive your copy of the Winter Menu. If you do not like a particular meal on the menu you can substitute for a roast or cold meat and salad.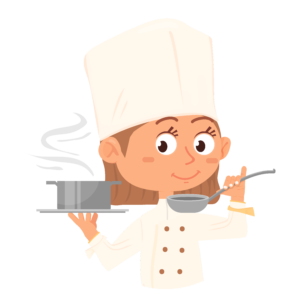 19/05/2023
National Volunteers Week 2023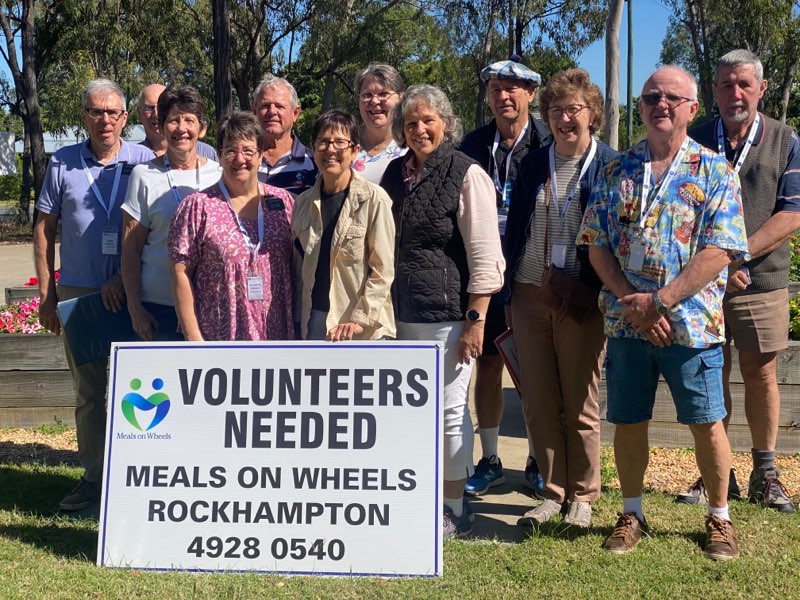 National Volunteer Week, held annually in May, is a great opportunity to say a BIG Thank you to our wonderful Volunteers who make the running of our Service a success. We are very grateful for our Kitchen Volunteers, Delivery Drivers and Assistants and our Committee Volunteers. We couldn't do it without you. Bravo!
13/04/2023
Upcoming Public Holidays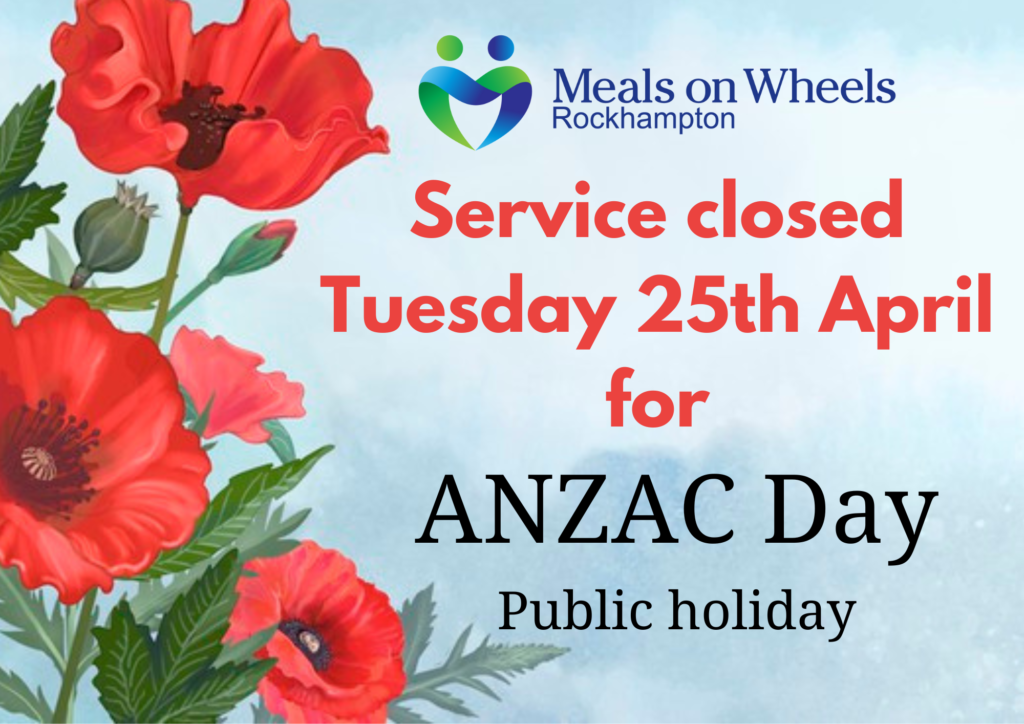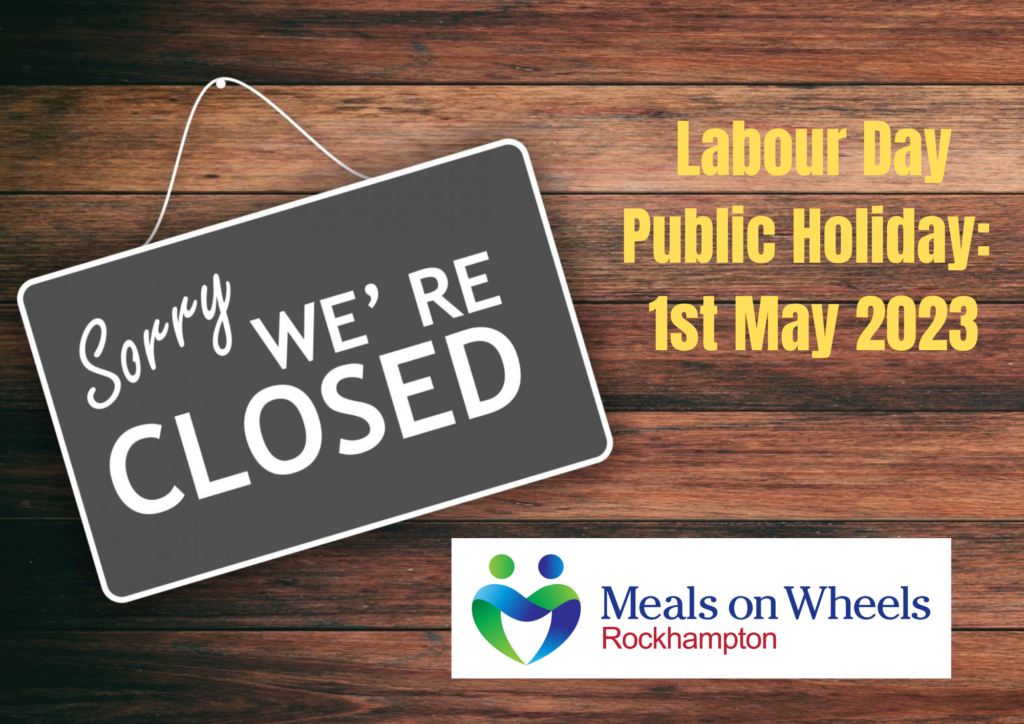 Our Service will be closed on these days. Clients will be provided with a Frozen meal the day prior for the public holiday, unless they advise us otherwise. A letter has been sent to Clients advising them of the Public Holidays.
30/03/2023
Easter Public Holidays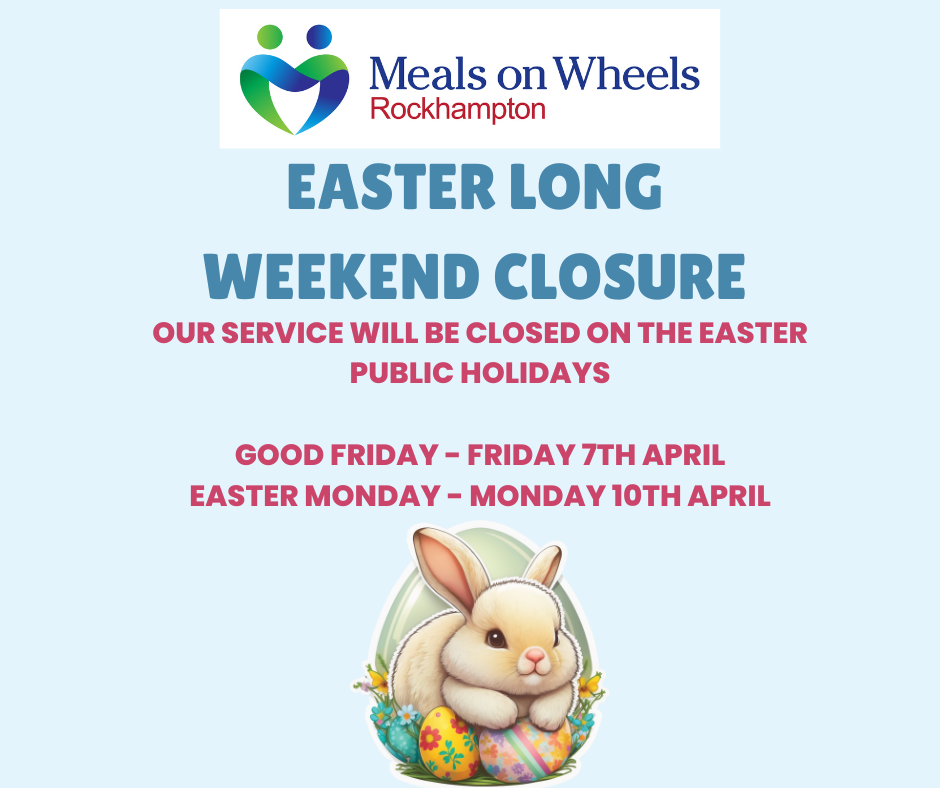 Our Service will be closed on these days. Clients will be provided with a Frozen meal the day prior for the public holiday, unless they advise us otherwise. A letter has been sent to Clients advising them of the Public Holidays.
13/09/2022
Upcoming Public Holidays
Queens Memorial Public Holiday – Thursday 22nd September
Queens Memorial Public Holiday – Thursday 22nd September
Queens (Kings) Birthday Public Holiday – Monday 3rd October
Our Service will be closed on these days. Clients will be provided with a Frozen meal the day prior for the public holiday.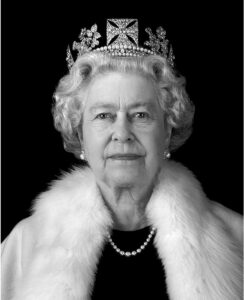 08/09/2022
R U OK Day?
R U OK Day 2022
Today is R U OK day. A day that reminds us that a conversation could change a life, not just today but any day.
Take a moment to ask your family, friends, co-workers, community – R U OK? We all go through ups and downs in life and it affects everyone differently. Here are some easy steps to check on someone:
2. Listen with an open mind
3. Encourage action
4. Check in
Our Staff and Volunteers enjoyed a special morning today encouraging them to ask the question- R U OK?.
Don't put it off. A conversation could change a life.
For more information and for access to useful resources: https://www.ruok.org.au/every-day-resources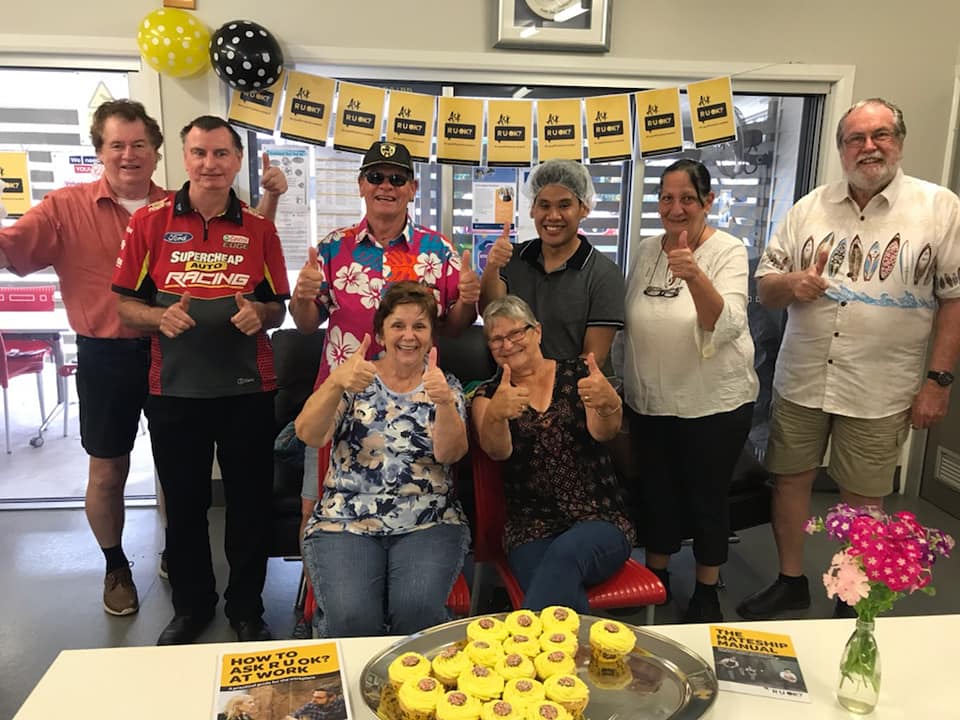 25/01/2022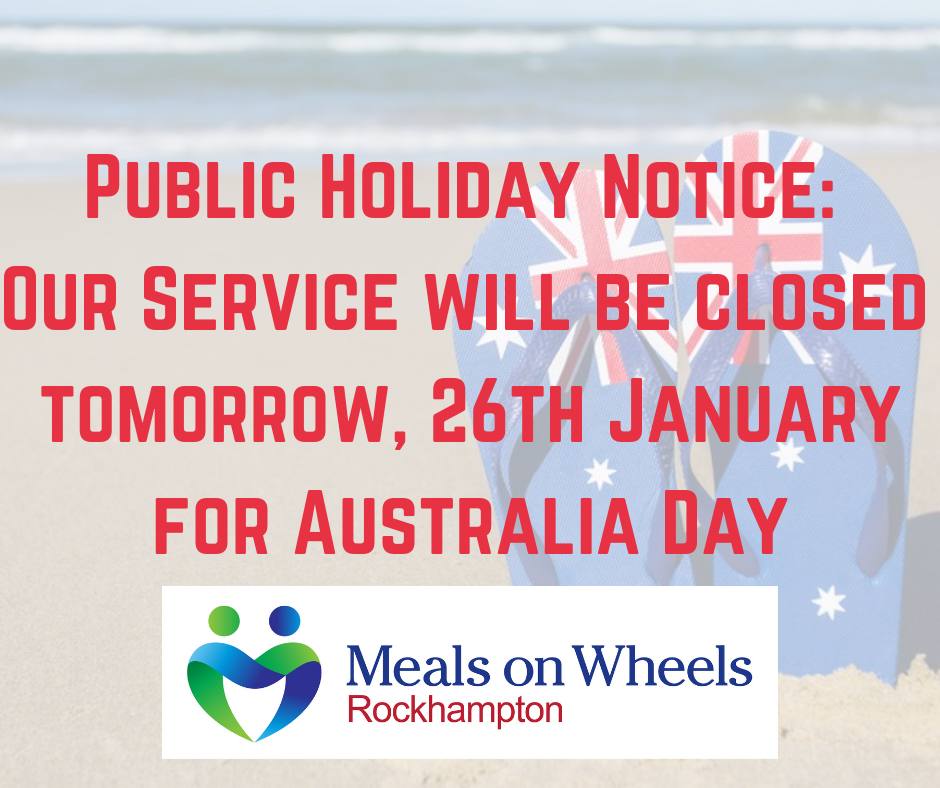 14/01/2022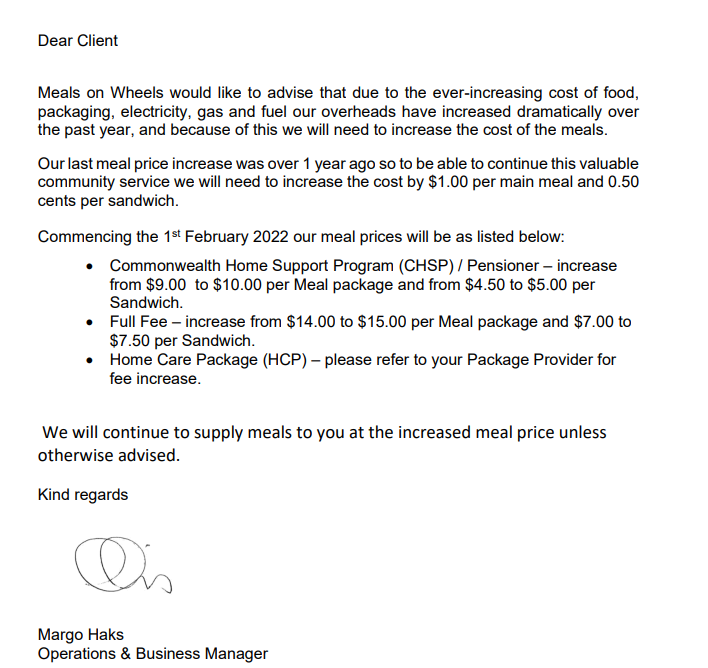 22/12/2021
20/12/2021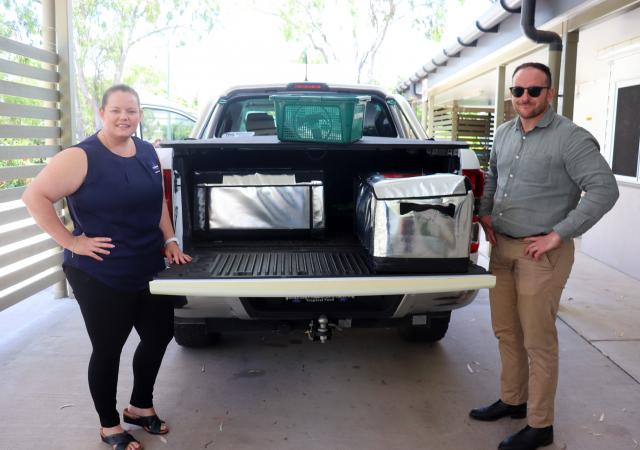 By Matthew Pearce
Published in CQ Today 17.12.21
Meals on Wheels is more in need of volunteers than ever and Rockhampton business Regional Insurance Brokers has taken up the call.
Regional Insurance Brokers financial planner Jeffrey Lanyon said staff had 'jumped on board straight away' after he suggested volunteering in late 2020.
Mr Lanyon said staff enjoyed giving back to the community.
"I was driving down Berserker St and saw the sign asking for volunteers," he said.
"We decided we wanted to do something for the community. I thought it was a pretty good cause, got the approval from management and and everyone who was available to do it wanted to do it."
The 14 staff members work on a roster system and look forward to their shift on Thursday morning.
"It's a a group effort that's for sure," Mr Lanyon said.
"Meals on Wheels helped us out, giving us a run that can be done within an hour so it's not a big ask or the business.
"We have to have a driver and a deliver person but everybody takes turns and we make sure our partners are from different areas of the business to ease the load. It's nice and easy and it's a pretty good way to get to know your work crew as well.
"It can cause a little bit of stress if we're understaffed but because everyone likes doing it we all band together and get it done."
"Each pair are rostered on every seven weeks and it's really nice to see the same regulars on your list every time," he said.
"It's a bit sad when you've gone to a regular so often and they drop off the list, you wonder what has happened to them.
"A lot of these people that receive Meals on Wheels don't get a lot of visitors so it could be the only interaction they've had for the last couple of days.
"This is a way of giving back to people who are less fortunate or may have served the community themselves."
Meals on Wheels Rockhampton business and operations manager Margo Haks said she hoped Regional Insurance Brokers would be the first of many businesses that came on board to volunteer.
"If businesses could just spare a couple of staff for a couple of hours a week, it would be gratefully appreciated because it's getting harder and harder to get volunteers," she said.
"We get feedback from Regional Insurance Brokers to say they how much they love coming. We'd love to see more businesses follow their example.
"Just give us a call and we'll be happy to put your staff through orientation and take them out a few times to show them the ropes."
Mr Lanyon also recommended other businesses get on board.
"It's not really too much out of your work day to drop an hour every now and then to go out and help the community."
If you want to volunteer contact the office on 4928 0540, email [email protected], or call in to kitchen at 350 Berserker Street, Frenchville.
26/05/2021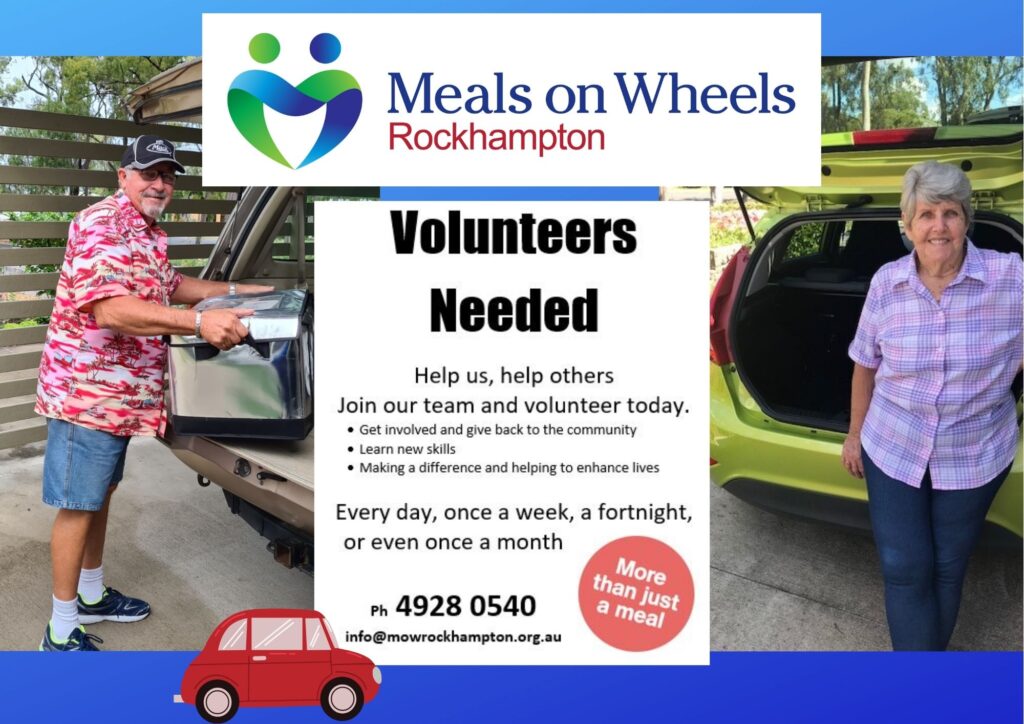 17/05/2021
National Volunteer Week 2021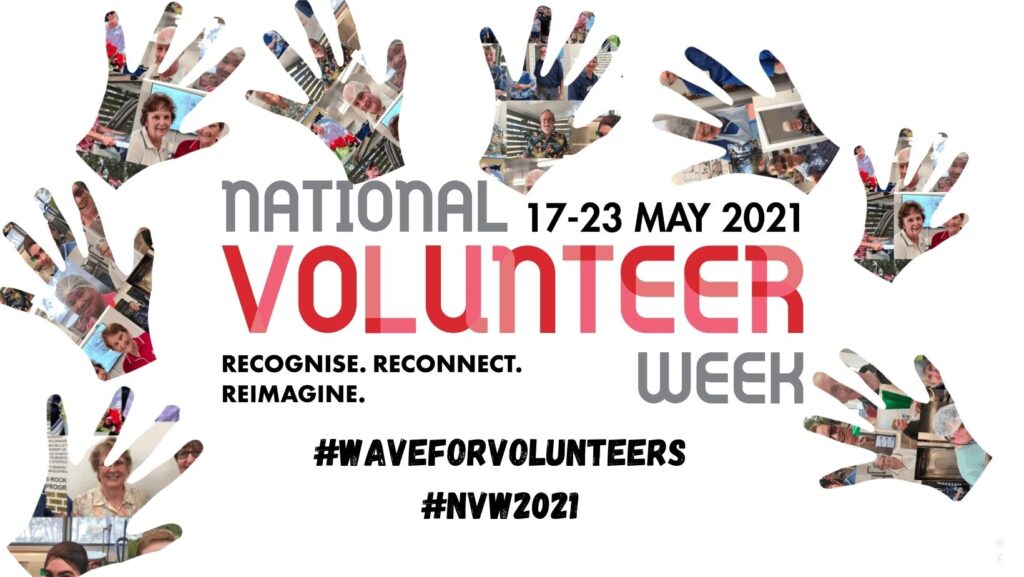 21/12/2020
Christmas Public Holiday
Meals on Wheels will be closed on Christmas Day (Friday 25th), Boxing Day (Monday 28th) and New Years Day (Friday 1st).
To ensure that all clients receive meals during the closure will be delivering Frozen Meals with Clients' normal delivery during the days prior to Christmas and the New Year.
Clients need to advise us if they do not require the meal for the holidays.
15/10/2020
The Summer Menu has arrived!
Our kitchen staff have prepared a wonderful new Summer menu for our clients to enjoy. The new menu starts on Monday 19th October and all Clients will receive a copy of the menu. We always appreciate feedback from our clients, so we would love to hear your thoughts on the new menu items.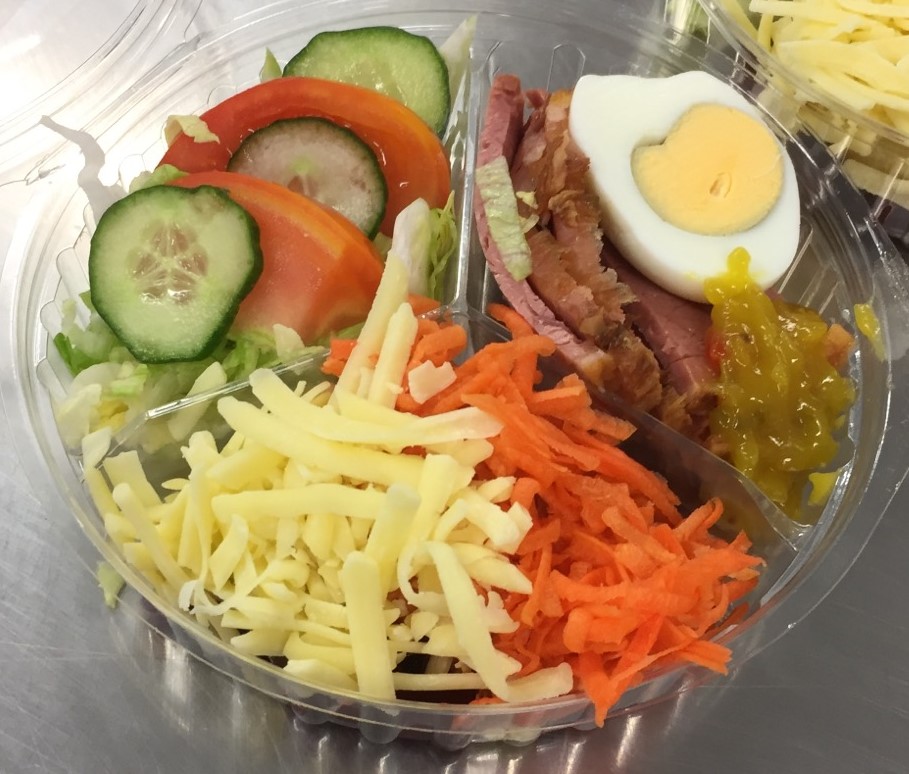 13/10/2020
Thinking about Volunteering? Here's a sign.
Have you seen our new banner outside our premises on Berserker street? We are currently in need of Volunteers to help with delivering meals or preparing meals. If you've got a couple of hours to spare, please consider volunteering for such an important service in our Community.Thank you to the kind volunteers who came and put up the banner on the weekend. To volunteer with us, you can ring us on 4928 0540 , email [email protected] or drop in and see us at 350 Berserker Street between 8.30am and 2.30pm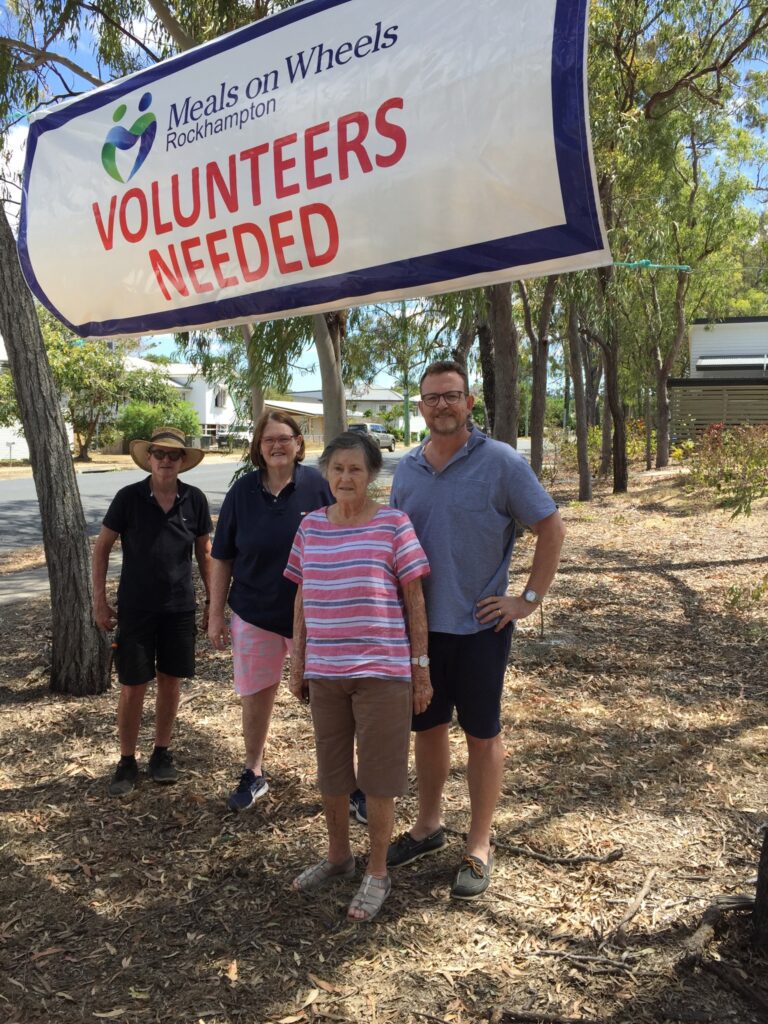 25/09/2020
Thank you Reckitt Benckiser!
A huge THANK YOU to Reckitt Benckiser for generously donating Glen 20 and Pine O Cleen Disinfectant Wipes for each of our Clients and Volunteers. It is great to see that big companies continue to support our service and acknowledge the local community.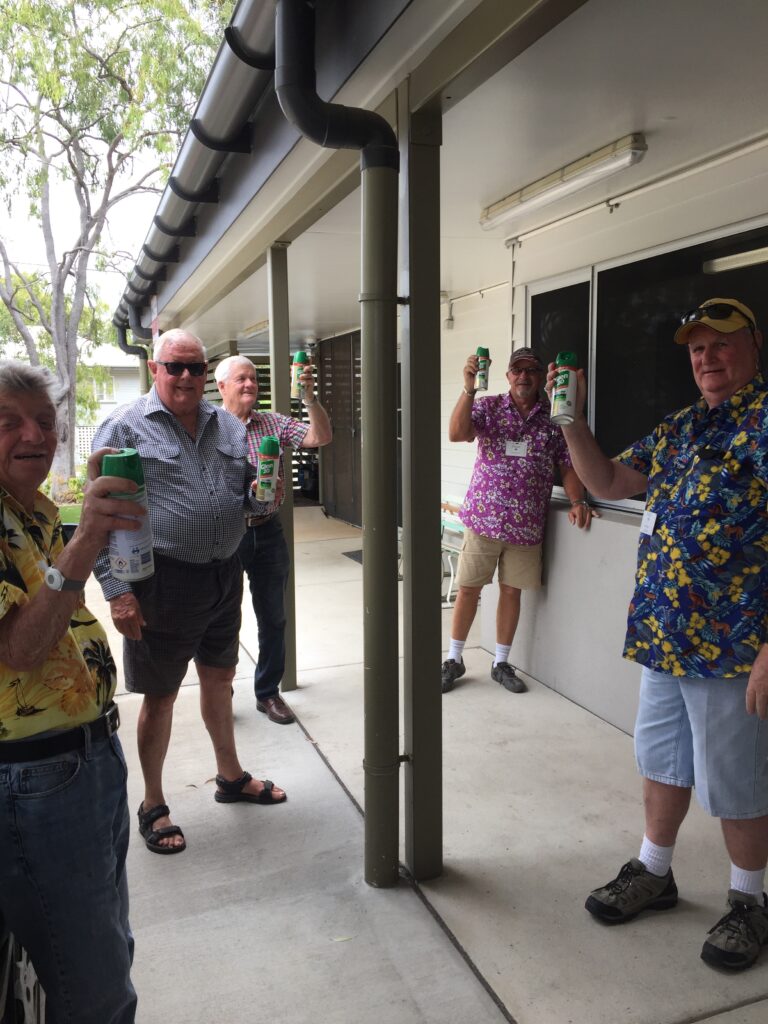 03/07/2020
Stockland Care Grant Recipients
We were recently successful recipients of the Stockland Care Grants. The funds received in this grant have allowed our Service to purchase an Automated External Defibrillator (AED) Machine, that may help save someones life one day.
Pictured is Staff member, Karen McCusker with Volunteers Marie Weaver and Susan Thorpe with the new AED Machine. Thank you to Stockland Care Grants for allowing us the opportunity to purchase this life saving equipment.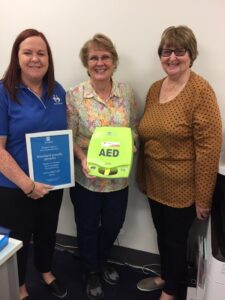 09/06/2020
Volunteers Required
This week we have welcomed back some of our older Volunteers who had to step back from Volunteering due to Government recommendations regarding our older generations and the risk of Covid-19.
Its been wonderful to have these familiar faces back at our service doing what they enjoy.
Although we have been able to welcome back some of our Volunteers, we do still have volunteer shortages on our delivery runs and are in desperate need of people who are able to volunteer to deliver meals on a permanent basis.

We appreciate those who have offered to help on a short term basis, however, the need right now is for those who can fill the roles in a long term capacity.
If you are interested in volunteering with Meals on Wheels Rockhampton, please contact 4928 0540 or email [email protected]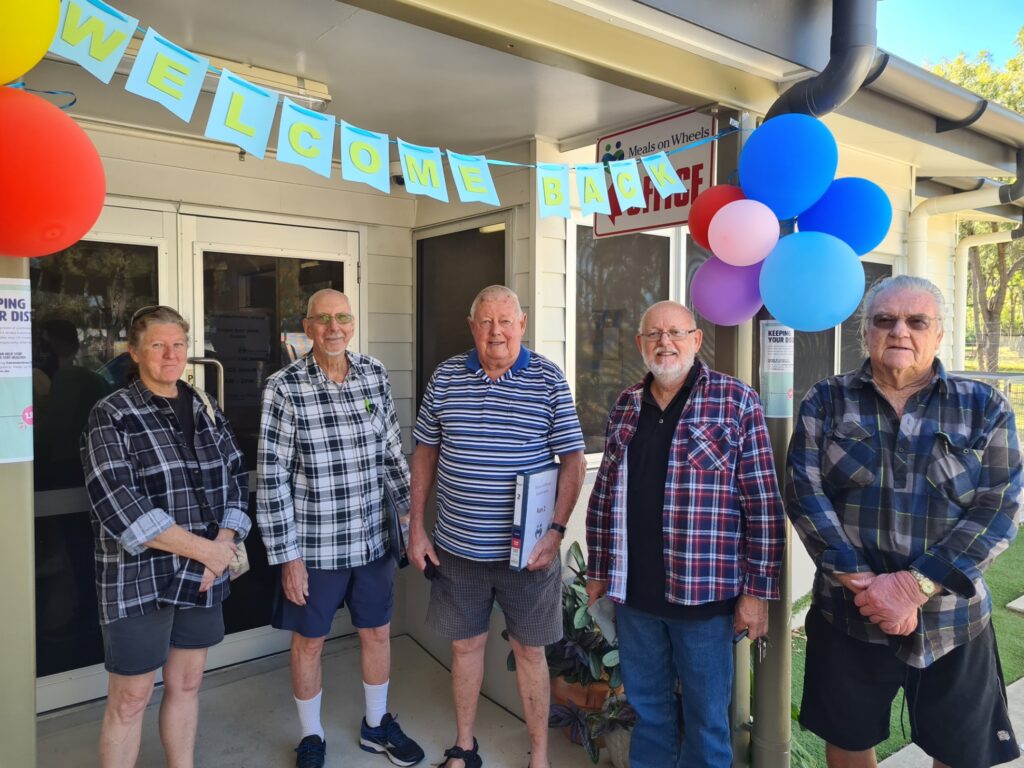 02/06/2020
Hot Meals are returning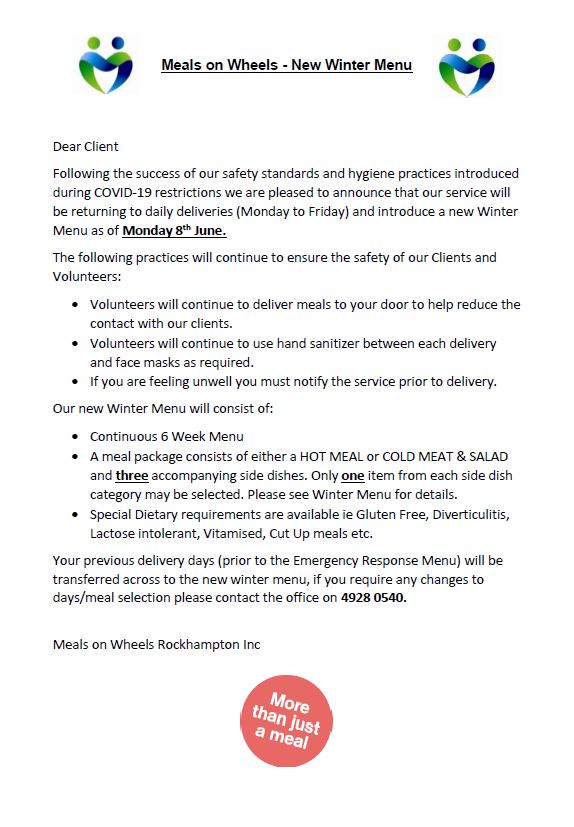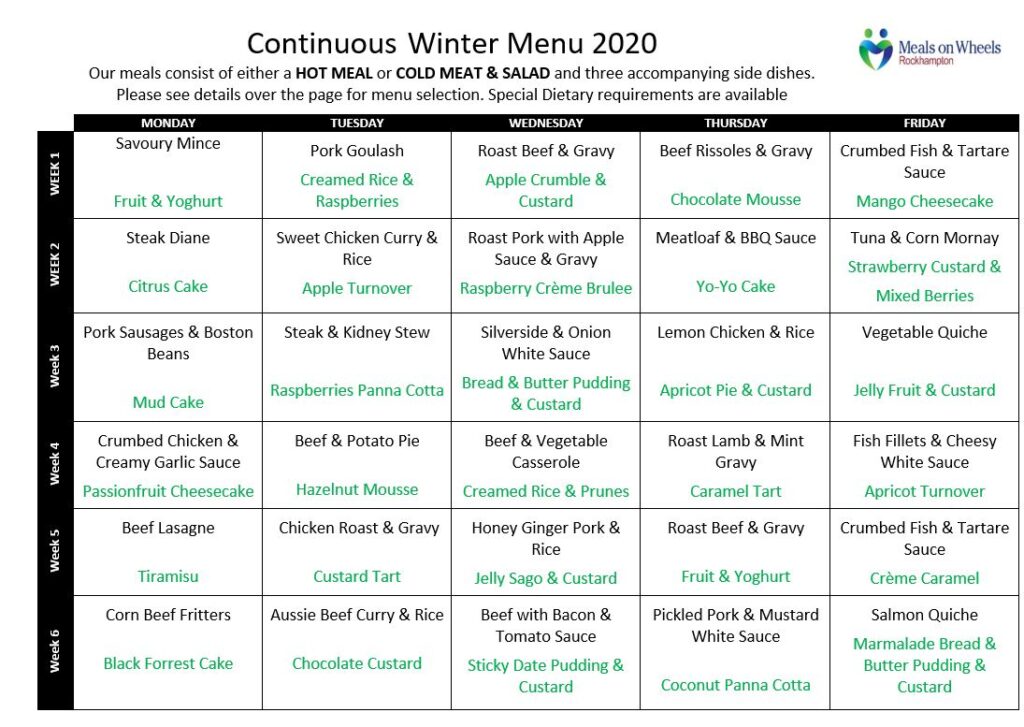 23/05/2020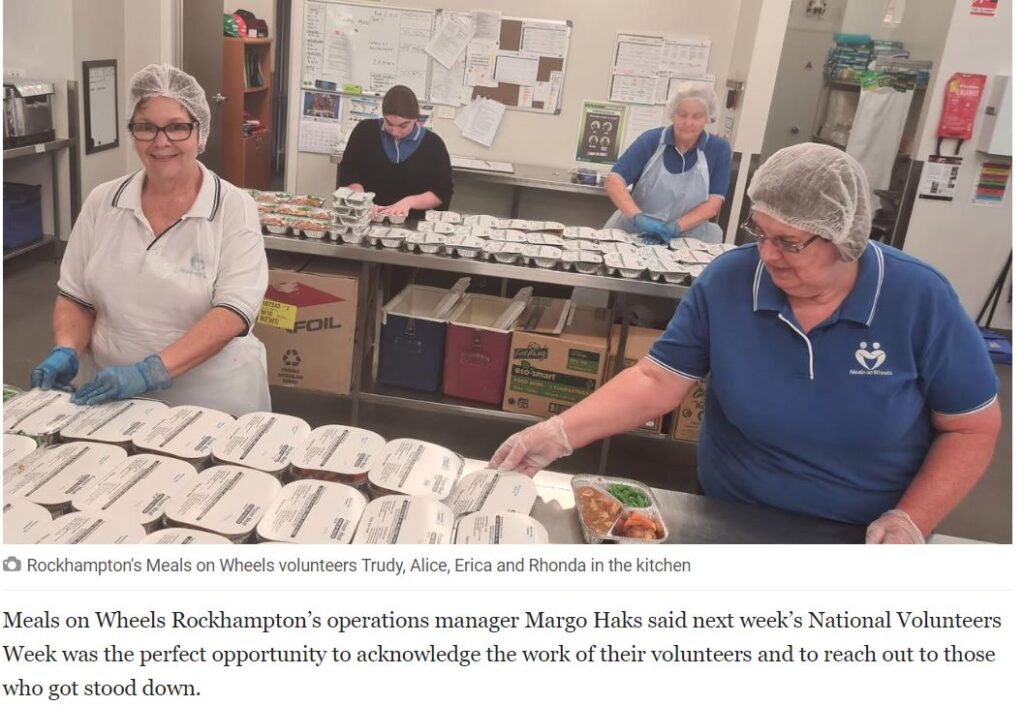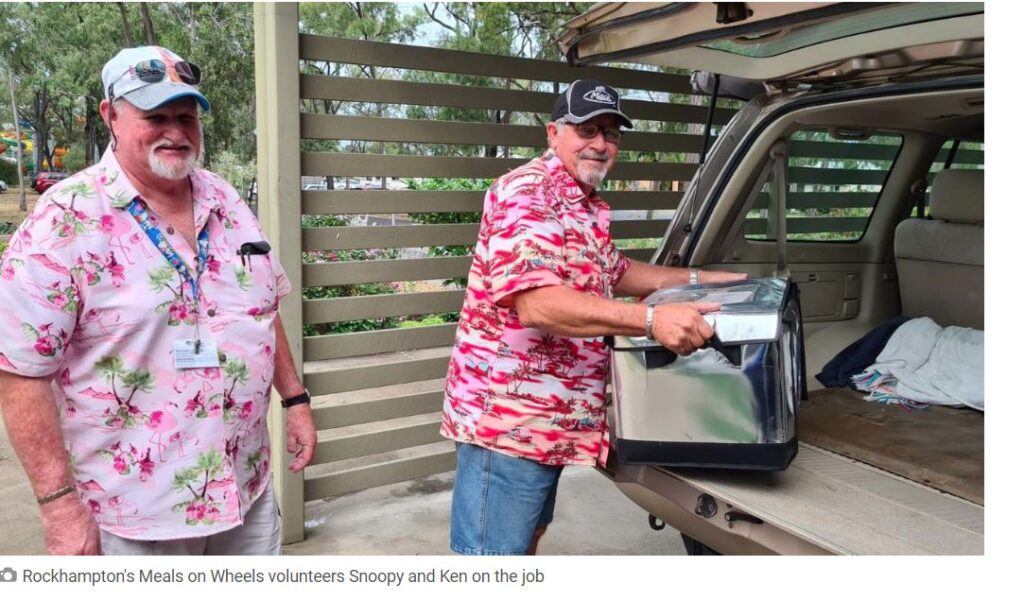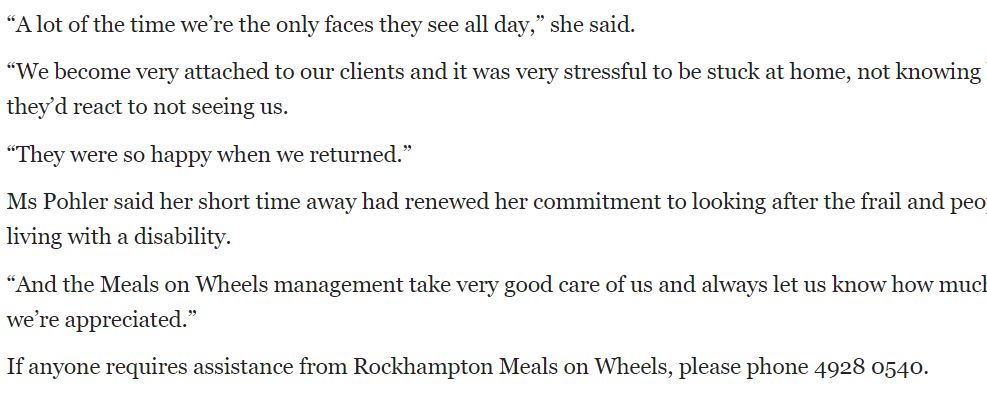 18/05/2020
National Volunteers Week
This week we celebrate National Volunteers Week. Lets wave our appreciation to our Volunteers
National Volunteer Week (NVW) is the annual celebration to acknowledge the generous contribution of our volunteers. In these uncertain times we feel that it is more important than ever to recognise and acknowledge our hardworking volunteers.We are very thankful for our amazing Volunteers who work so hard in preparing and delivering meals to our Clients every day. This year has been a challenging year so far and our volunteers have had to adapt to lots of big changes to the way we do things, but they taken it all in their stride. We are appreciate every single one of them and their Contribution to our Service and our Community.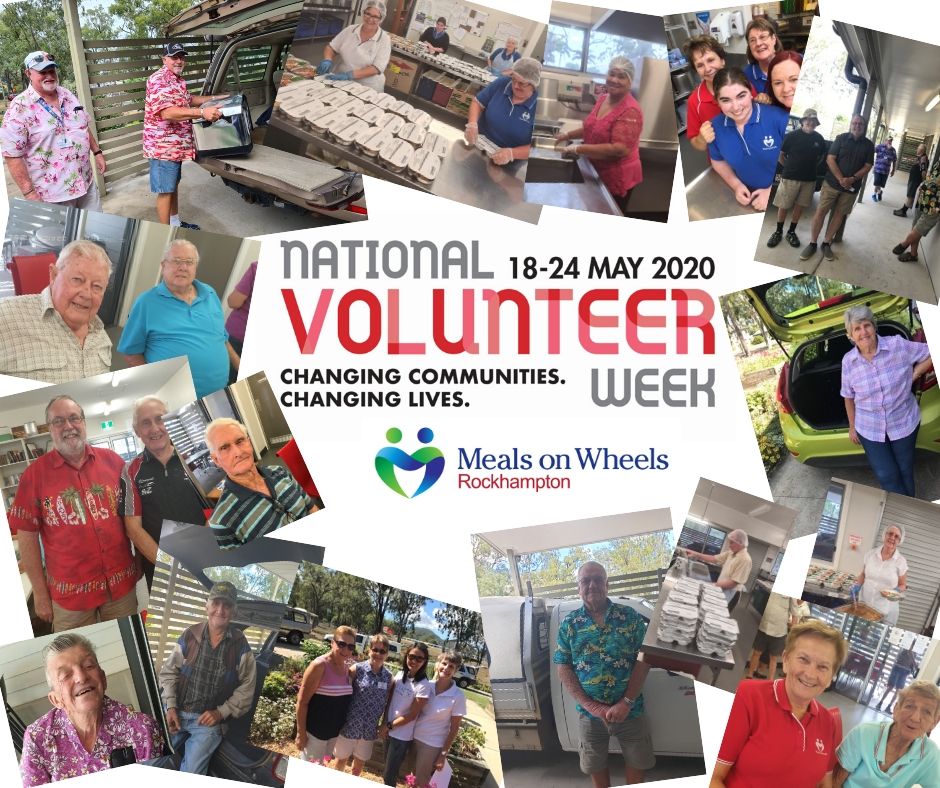 24/04/2020
ANZAC Day
Tomorrow we will commemorate ANZAC Day . Although Traditional services and marches are not taking place this year due to COVID-19, we encourage you to Light up the Dawn in the Driveways at Dawn Initiative by standing in your driveway, on your balcony or in your living room to remember all those who have served and sacrificed. Services can be played on the Radio at 6am.
Please note that as ANZAC Day falls on a Saturday this year, Monday 27th April IS NOT a Public Holiday and our Service will be open with meal delivery still taking place as usual.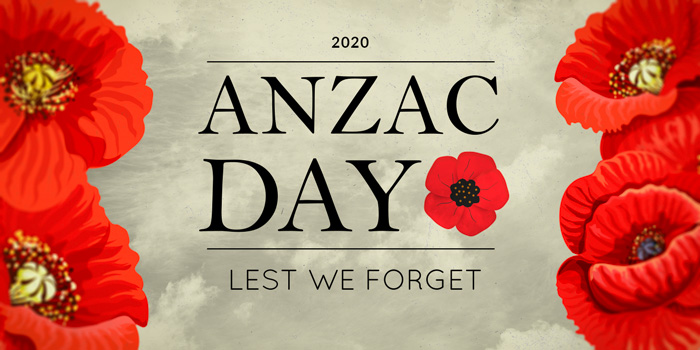 03/04/2020
COVID-19 – Frozen Meals
Life is changing quickly at the moment, but what isn't changing is the high quality meals our Kitchen Staff are busy preparing each day to ensure our Clients are still receiving delicious, quality frozen meals during these difficult times. Today, the Kitchen is preparing 500 Silverside dishes that will be frozen and delivered to clients next Monday. Our Service is taking on new clients again as of Monday 6th April. We are delivering Frozen meal packages to clients twice a week – Monday and Thursdays. A Frozen Meal Package consists of a Frozen meal, juice and a dessert. Please give our service a call on 4928 0540 if you are interested in receiving meals for yourself or a family member.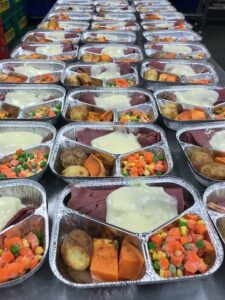 28/03/2020
COVID-19 – Changes to Service
Meals on Wheels is endeavouring to avoid the potential spread of novel coronavirus (COVID-19). To ensure our valuable service can continue, we are following the advice and guidelines from the Queensland Government, Health Authorities and Queensland Meals on Wheels to limit the contact with our clients, so the following steps will be implemented.
The meal package will consist of a Frozen Main Meal, Dessert and Juice or Milo
A two-week rotational menu will be implemented – see attached copy.
Frozen meal heating instructions will be provided – see attached copy.
Delivery days will change to align with the new delivery days – eg: if your normal delivery day was Tuesday it will now be delivered on a Monday.
Due to the limited availability and the rising costs of the food and resources, Meals on Wheels will:
not be able to provide salad and sandwiches. Instead we will provide you with a frozen meal
we can continue to cater for special dietary requires such as, diverticulitis, gluten free and textured modified meals (vitamised / cut up etc.) Unfortunately we cannot cater for likes and dislikes at this time.
During this public health emergency, we are doing all we can to protect our Meals on Wheels Community and are asking for your support.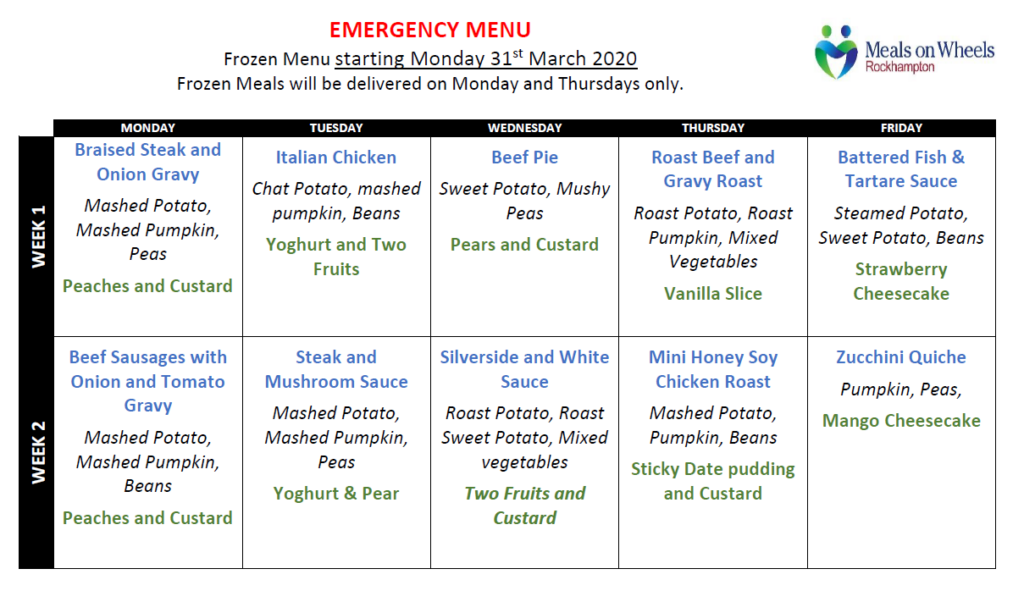 16/03/2020
COVID-19 – How we are doing our part
Dear Valued Client of Meals on Wheels Rockhampton
With the current situation surrounding the Covid-19 virus, it is important our service takes steps to manage the well-being and on-going safety of both yourself and our volunteers.
We ask if you do feel unwell with cold or flu like symptoms that you please contact our service on 4928 0540 as soon as practicable so we can take the necessary steps to ensure we deliver your meal as safely as possible.
We also ask if you haven't had the opportunity to familiarise yourself with the government's advise on how to stop the spread of Covid-19, please follow the key points noting that practising good hand hygiene and sneeze/cough hygiene at all times is the best defence:
wash your hands often with soap and water before and after eating as well as after attending the toilet;
using anti-bacterial hand gel when hand washing facilities are unavailable;
use disposable gloves if hand washing or sanitiser gel is not available;
avoid touching other people, and
cough and sneeze into your elbow
If the situation arises where you are placed in home isolation due to the Covid-19 virus, please advise our service ASAP. In situations where this may occur, please know that our service will take all the necessary steps to ensure your meal service is maintained over that period.
As they say be alert not alarmed, and our service is here to support you. Should you wish to discuss this note or discuss any other matter where we may be able to support you, please don't hesitate to contact us on 4928 0540.
05/03/2020
The Latest Newsletter is here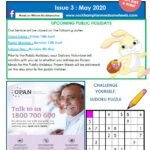 03/03/2020
Remembering Rhonda
Rhonda Fisher, was a much loved, dedicated volunteer on Run 16 who passed away on November 11th 2019.
A Memorial to Rhonda has recently been placed in our Gardens at our Service to remember our Friend who gave so much to this service and to the Community.
Rhonda is missed greatly by all those who knew her.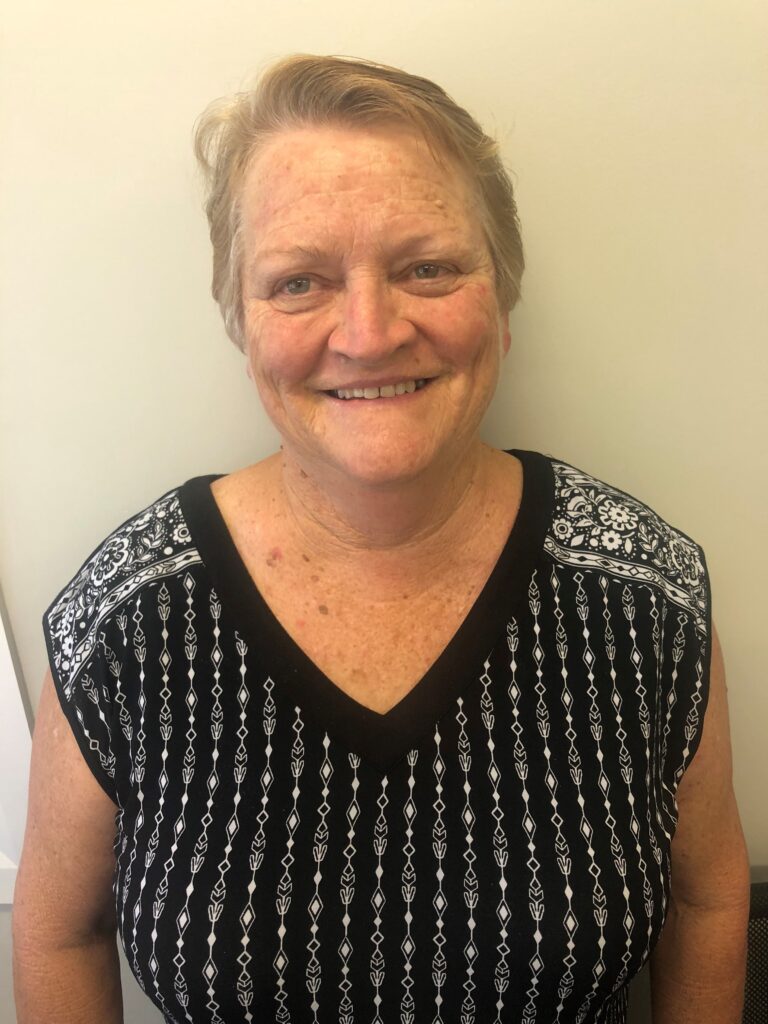 28/02/2020
Celebrating Long Term Volunteers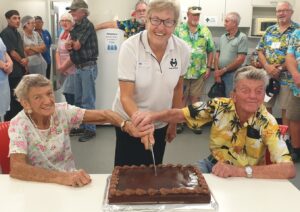 We recently surprised two of our longest serving volunteers, Gordon Walker and Joan McCamley by presenting them with a special badge of Honour and celebrating with a cake cutting ceremony with their fellow volunteers.
Gordon Walker has been volunteering for 43 years and comes in on a daily basis and Joan volunteers weekly and has been with the service for 34 years.
Both of these wonderful people, are much loved by Clients and Volunteers and have always got a smile on their face and enjoy their contribution to our Community through delivering meals. The special badges were custom made locally and provide a special keepsake to these volunteers as a thank you for the valuable work and long term commitment they provide our Service.
12/12/2019
Christmas Closure
Just a reminder that our service will be closed on the following days:-
25th, 26th & 27th December 2019
1st January 2020
A letter was sent out to all clients to advise if meals were not required during holiday period.
For the clients who have indicated that they require meals during the holidays, frozen meals will be delivered on the day prior.
For the clients who have indicated that they require meals during the holidays, frozen meals will be delivered on the day prior.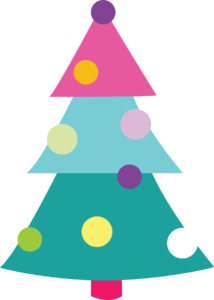 21/10/2019
New Summer Menu has arrived
The new 6 week Continuous Summer Menu has now started. We hope you all enjoy the delicious selection of meals that we have chosen. New Items on the Summer menu include Mini Plum Chicken Roast, Chicken Parmigiana, Creme Caramel as well as lots of other enjoyable dishes.
You can view the new menu here.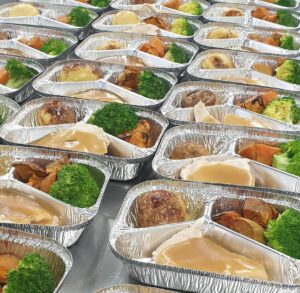 20/09/2019
Queens Birthday Closure
Our Service will be closed on Monday, 7th October for the Queens Birthday Public Holiday. To ensure that Consumers receive a meal for this day we will be delivering a Frozen Meal with Consumers on normal deliveries prior to 7th October. A letter has been distributed to Consumers to complete and return if they do not require a frozen meal for the public holiday.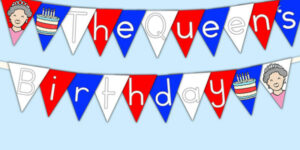 28/08/2019
National Meals on Wheels Day
We celebrated National Meals on Wheels day and signed a new declaration in order to create a more perfect service for the Community. Thank you to all our wonderful staff and volunteers that put in a great effort to ensure our service continues to grow.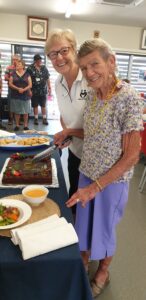 28/08/2019
Birthday Cards for Clients
Thank you to South Rockhampton Senior Girl Guides who created and donated Birthday Cards to our Service. These brightly coloured cards were part of a service project by the girls and cards will be given to Clients on their Birthdays.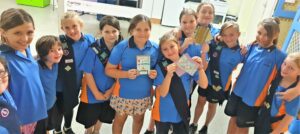 12/08/2019
Latest Newsletter
The Latest Issue of the Newsletter is now available. You can view it here. Consumers receive a copy with their meals.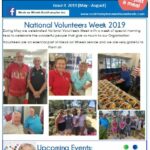 10/08/2019
Donation of First Aid Kit
Special Thanks to Councillor Neil Fisher for his kind donation of a new portable First Aid Kit for our service. We have already had the need to use it on one of our Volunteers.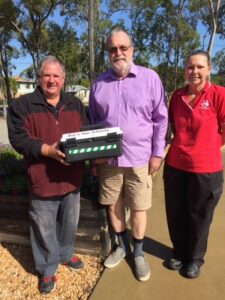 29/05/2019
Show Holiday Closure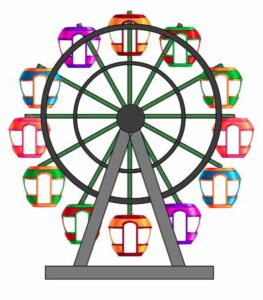 24/05/2019
National Volunteers Week
May 20th to 25th was National Volunteers Week. We celebrated our amazing Volunteers with a Morning Tea celebration each morning.
Thank you to the wonderful men and women who volunteer their time and help make a difference in other peoples lives.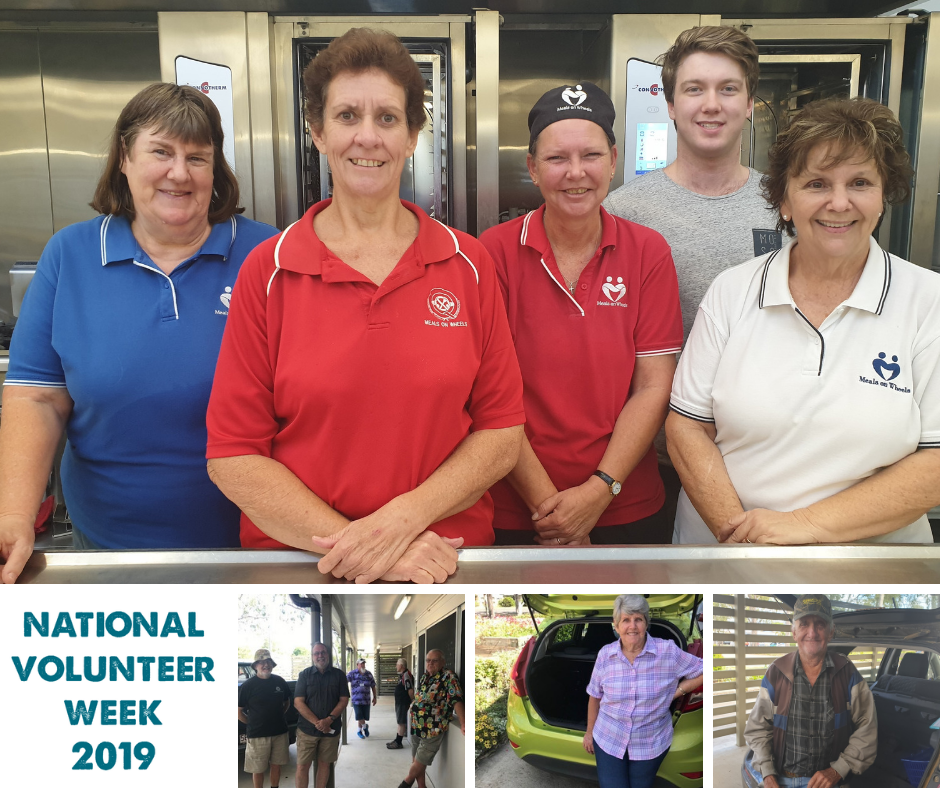 01/05/2019
Latest Newsletter
Issue 2 of the Newsletter is now online. You can view it here . Consumers will receive a copy of the newsletter with their meals.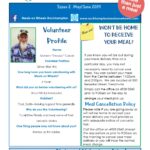 23/04/2019
ANZAC Day
Our Service will be closed on Thursday, 25th April for ANZAC day.
If you usually receive a meal on a Thursday, you will receive your Public Holiday frozen meal on Wednesday 24th April.
18/4/19
Happy Easter from Rockhampton Meals on Wheels
Our Wonderful Kitchen Staff have been busy working on a new delicious Winter Menu for you all to enjoy, starting on May 6th 2019. All Consumers should have recently received a copy of their menu with their Meals. To view a copy of the new Menu. Click here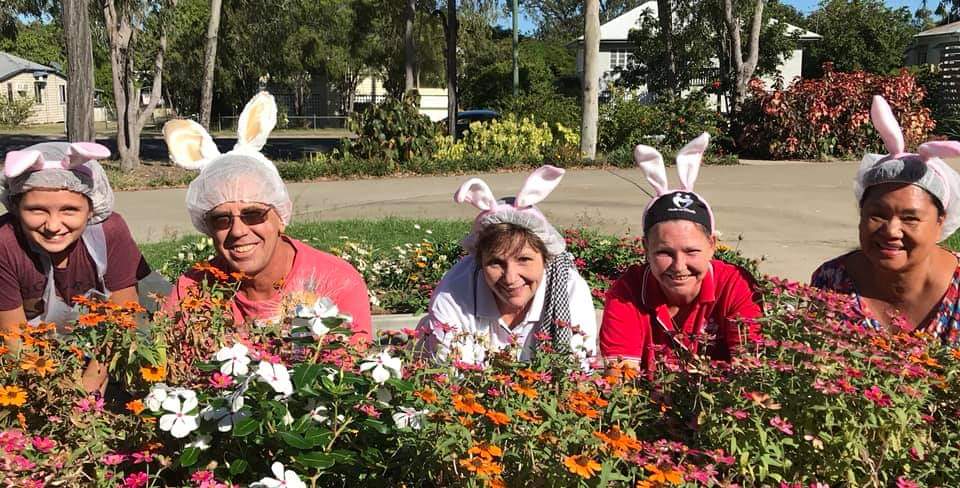 Our Hardworking Volunteer Bunnies wish everyone a very happy and safe Easter.
Our Service will be closed on Good Friday and Easter Monday.
17/4/19
The Winter Menu is coming!
Our Wonderful Kitchen Staff have been busy working on a new delicious Winter Menu for you all to enjoy, starting on May 6th 2019. All Consumers should have recently received a copy of their menu with their Meals. To view a copy of the new Menu. Click here